6 – 9 th February 2014
India Pistons to participate in 12th Auto Expo 2014 – Components at Pragati Maidan, New Delhi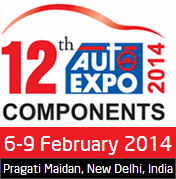 India Pistons Limited (IPL) is one of the flagship companies of the highly successful Amalgamations Group - India's largest Light Engineering Conglomerate. IPL along with India Pistons Pins & Liners (IPPL) and IPL Engine Components Private Limited (ECPL) is participating in the Auto Components Expo 2014 at Pragati Maidan, New Delhi.
12th Auto Expo 2014, the biennial show of the Indian automotive industry is jointly organized by Automotive Components Manufacturers Association (ACMA), Confederation of Indian Industry (CII) and Society of Indian Automobile Manufacturers (SIAM). The Auto Expo 2014 now be held as two separate shows - Motor Show and Components Show - in two separate venues. The Components Show is scheduled to take place from 6th-9th February at Pragati Maidan, New Delhi.
With 'The Motor Show' at India Expo Mart and 'The Components Show' at Pragati Maidan put together, Auto Expo is going to be the largest ever show in terms of exhibition space occupied and visitors' attendance per day. It will be a dynamic and vibrant show - one of the best in India.
Visit at Amalgamations Group Stall No 5.14, at Auto Expo 2014 - Components Show, Pragati Maidan, New Delhi.